Summer is in full swing here in the Mt. Washington Valley, and we're happy to announce that we have launched a new Breakfast and Lunch menu in the cafe with something for everyone that visits. Whether you are a vegetarian, vegan, or gluten free, we have options for you!


Breakfast-
If you haven't been in for breakfast yet, you really should put it on your to do list. Better yet- swing in for a morning yoga class first! We proudly feature local eggs, cooked traditionally or in fun favorites like our Sun Salutation Bowl and Peaceful Warrior Bowl. New to the menu, our buttermilk pancakes, topped with local maple syrup and fresh fruit. If you're on the go, we have a fully stocked bakery case with gluten free items and a lengthy list of Espresso, Organic Teas, Juices, and Smoothies to choose from. Perfect for fueling your day!
Lunch-
Our favorite salads, wraps, and sandwiches are still on the menu, but we've added some new items we know you'll enjoy. We now offer a 100% grass fed burger, as well as a plant based veggie burger that is vegan! Other vegan options include salads, our falafel wrap, a vegan B.L.T., and a hummus wrap. We also offer gluten free wraps and buns.
It just wouldn't be summer time without an updated day time drink menu, featuring farm to glass cocktails and mocktails. The drink menu is bursting with edible garnishes from our own Mountain Flower Farm, making our fun fizzy creations like no other restaurant in town. Looking for something you don't see? Just ask. And of course, our outdoor seating is the perfect place to relax with a beverage on a beautiful summer day.


Of course, whether it's a breakfast or lunch order- all items are available to go. While you're waiting for your food, why not browse the store? Our grocer is stocking new items daily, as our local farms send us the latest seasonal items. Our produce case is fully stocked, and there's always a friendly face available to answer any questions you might have.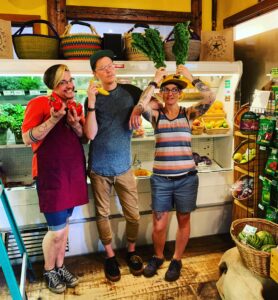 Thank you for supporting local, organic food! Of course, whether dining with us during the day at the Local Grocer, or in the evening at Table + Tonic, we have a Non-GMO guarantee. See you soon.
The Local Grocer is open daily for Breakfast and Lunch from 8AM – 3PM.
Table + Tonic Serves dinner nightly Thursday thru Monday from 5PM – 9PM.